We are Philadelphia School District's Most Improved Middle School for the 2016-2017 school year!
Overall, our school SPR increased from 13% to 46%.
A rise of 33 percentage points in a single school year!
Click here for the Flyer in PDF Format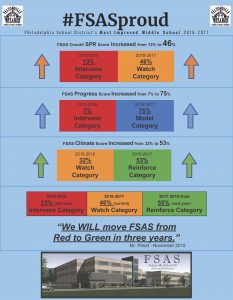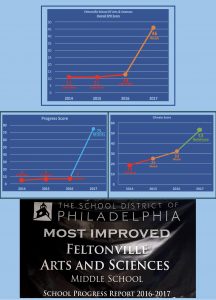 Dear FSAS Family,
We would like to welcome our new students to FSAS and are excited to see our returning students ready for another successful year! I'm so proud of our accomplishments that we achieved together last year. Our school was awarded the Most Improved Middle School in the city of Philadelphia! We are on the rise and we are enthusiastically looking forward to building on last year's success.
At FSAS, it is very important that your children come to school every day and on time. All students are expected to earn 95% attendance, which means they can't miss more than 8 school days throughout the year. Breakfast will be served before school from 7:45-8:15am. At 8:15am students will transition to begin their academic day. I expect to see all students present and on time every day. At FSAS we believe that when expectations are set high, children will rise to the challenge. Your children will receive the highest quality education delivered by a passionate, talented, and caring staff that wants to see each child reach their full potential.
We put an emphasis on utilizing sound instructional strategies that implement the Common Core State Standards in a way that provides meaningful and memorable learning experiences for your children. Each day, your children will develop the skills necessary to become critical thinkers so that they can gain a deep understanding of the curriculum.
Our school also puts an emphasis on showcasing the various skills and talents that your children possess. We will hold numerous events throughout the year to display these talents and I hope to see you there to support the children of our school.
I expect this to be another phenomenal year for the entire FSAS family. Our doors are always open and I encourage you to visit, share your ideas and concerns, and play an active role in all of the great accomplishments that your children will achieve this year.
Sincerely,
Mr. Piniat
Principal
Our Mission
The mission of Feltonville School of Arts and Sciences is to provide a comprehensive preparatory education through academically rigorous instruction and technology rich programs. We expect all students to maintain the highest standards of excellence and to develop their skills, so that they become confident learners empowering them to contribute to their education and community.
Our Vision
We envision the Feltonville School of Arts and Sciences as a learning community that provides a supportive environment where students feel physically and emotionally safe. We are committed to providing students with instruction that is authentic, rigorous and standards driven. The school community that we envision understands individual differences, appreciates diversity and emphasizes the importance of life-long learning.